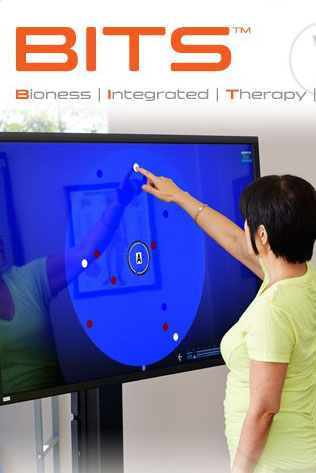 Bioness Integrated Therapy System (BITS)
The Bioness Integrated Therapy System (BITS) from Bioventus is intended to challenge and assess the visual, cognitive, motor, and balance abilities of individuals, including those with deficits resulting from traumatic injuries and movement disorders as well as competitive athletes.
Examples of these abilities include:
Visuomotor Coordination
Working Memory
Reaction Time
Physical & Cognitive Endurance
Visuospatial Perception
Balance Control
Visual & Auditory Processing
Postural Stability
With the large variety of BITS programs you can choose activities that are tailored to each individual. The therapies can be further modified to accommodate varying degrees of difficulties. With hundreds of possible parameter combinations, BITS can be customized even further to provide a unique therapy experience for each patient.
In addition, BITS allows custom images and text to be added for a truly personalized therapy experience. You can add images such as vocationally relevant images, pictures of family members, sports team logos, pictures of celebrities and historical figures, or add text such as career related terminology, names of significant people and places, or favorite movies, songs and books.
Personalizing therapy sessions and providing progress outcomes with customized reports helps engage patients in their care.